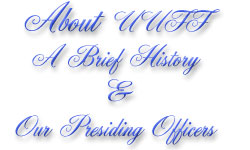 The Unitarian Universalist Fellowship of Fredericksburg has experienced steady growth since its founding in 1956. There are over 120 adult members, and about 70 children in the Sunday School. Built in 1833, our building was originally home to the First Christian Church of Fredericksburg. During its long and varied history, it has served at times as a hospital, a warehouse, and a school, and was most recently used as the bingo hall for a fraternal lodge. Purchased by this Fellowship in 1984, it has been gradually renovated to keep up with the needs of our growing congregation. Our Fellowship is committed to the democratic process, and responsibility for church decisions rests with the voting members. An elected Executive Board and a number of standing committees comprise the governing body of the congregation. We are an honor society of the Unitarian Universalist Association and are members of the Thomas Jefferson District of the UUA, as well as the Interfaith Council, the Food Bank, and the Church Shelter Board in Fredericksburg.

Director of Religious Education: Carol Collins
Committee Chairs:
Sunday Services:Mike Feinman
Religious Education: Howard Heppe
Denominational Affairs: Helen Springer
Building & Grounds: Jane Ellen Kravetz
Friendship: Debbie Brock * Kit Carver
Finance: Bill Brooks
Social Concerns: John Springer
Membership: Rebecca Elswick
Office Manager: Nancy Krause
Newsletter Editor: Maryann Brown
The Unitarian Universalist Fellowship of Fredericksburg
1115 Caroline Street / P.O. Box 663 / Fredericksburg, Virginia 22404 / (540) 371-1304
Links to Other Pages

An open mind
is the gateway to heaven.
soji
Your comments/questions are welcomed.